math jokes 4 mathy folks
live. laugh. learn.

:: Jokes
Just one — but he needs the help of six research students, three programmers,
two post docs, and a secretary.
Only one — but it takes nine years.
1–3, α = .05.
Just one — but what will you do with the doughnut?
Over 400 math jokes, collected in one volume!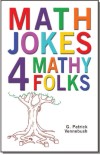 All jokes on this site, plus over 400 more, can be found in the book Math Jokes 4 Mathy Folks, available from Amazon and other purveyors of exceptional literature.