math jokes 4 mathy folks
live. laugh. learn.

:: Services
Puns & Puzzles Presentation
Combining jokes from Math Jokes 4 Mathy Folks with some of my favorite mathematical puzzles, I created Puns and Puzzles, a rolicking romp through math humor and problem solving.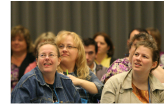 Attendees at this talk learn the answer to such burning questions as:
How many mathematicians does it take to change a light bulb?
What does a pirate say when his parrot flies away?
Six out of seven times, what is the sum of the first six digits after the decimal point when you divide by 7?
Didn't expect that last one, did ya? But that's why I love delivering the Puns & Puzzles workshop — I repeatedly hit the audience with unexpected punch lines and surprising numerical results.
"Patrick Vennebush is a teacherís teacher as well as a highly entertaining speaker and person. He has always been generous with sharing his ideas, enthusiasm, and humor."


– Carey Bolster, Past President of NCSM, Dunedin, FL
Puns & Puzzles is appropriate for any age and can be tailored to any audience. Contact me to inquire about scheduling Puns & Puzzles at your next math event.
Professional Development Workshops
In addition to prepared workshops, I can create a customized presentation for your group. I've presented an online curriculum to teachers in Illinois, exposed teachers to free online resources in Long Island, and provided online training to teachers around the globe — I've even delivered a Math Joke Hour to a standing-room-only crowd at an NCTM Annual Meeting.
Speaking and Book Signing
If you like Math Jokes 4 Mathy Folks, I'd be happy to give a brief presentation to your group and then sign books for attendees.
"Having recently participated in intensive math training with Patrick Vennebush, I know first‑hand that he is a gifted mathematician with a great sense of humor."


– Victoria Miles, Middle Grades Teacher, Weymouth, MA
Inversions
An inversion is a word or name written so it reads in more than one way. I learned about inversions in the book Metamagical Themas by Douglas Hofstadter, but I really got into them when I was exposed to the work of Scott Kim.
Below is an inversion of my name. I've made hundreds of inversions, but this is the one of which I'm most proud — probably because I showed it to John Langdon and his response was, "You've got more than a little artist in you. That's a very elegant ambigram!"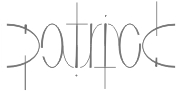 Have a look at some of my other inversions.
If you like the way my name looks, I encourage you to make an inversion of your own name. It's really fun. If you decide that you'd like an inversion of your name but just don't have the time or patience to make it yourself, I'd be happy to give it a try. Contact me about prices.
---
I've written textbooks, developed assessment items, created content for online courses and helped to prepare an entire online curriculum. I've also created informative professional development workshops and delivered invigorating keynote speeches that make audiences laugh and think.

If you'd like to find out how I can help you, give me a call at (703) 405-7845 or drop me a line.
Client List
WGBH Boston
Institute For Learning,
University of Pittsburgh
Math Resources, Inc.
D-Squared Assessments
Infinity Software Development
Kaplan K-12
WNET/Thirteen
MathSoft Engineering and Education
Frostburg State University
Madison County ROE 41
Edwardsville, IL
Smithtown CSD
Long Island, NY